ProDentures – Southwest Houston Location
Looking for a caring professional that offers quality, but affordable dentures, extractions and dental implants in Southwest Houston?
Well, you've come to the right place.
You are welcome to visit our ProDentures office conveniently located near Beltway 8 and US 59.
Call us at 713-778-0191 to schedule your free exam and evaluation today.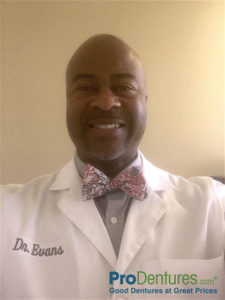 Dr. Ronald S. Evans is from Detroit, Michigan. He is passionate about helping others, and dentistry is the vehicle in which he gets the opportunity to do so on a daily basis.
Dr. Evans is a graduate of the University of Detroit Mercy School of Dentistry. Upon graduation he accepted an appointment as Associate Director of Minority Recruitment and taught in various pre-clinical and clinical courses over a seven year career in academia, while working in private practice.
He is a member of the Charles A. George and the Gulf State Dental Societies.
Dr. Evans excels at quick and efficient tooth removal as well as cosmetic dentistry. He brings over twenty-one years of clinical experience to us at ProDentures.
Dr. Evans has provided volunteer dentistry to patients on fourteen medical missions in Guatemala, Senegal, and Paraguay to name a few. 
His commitment to you is esthetically pleasing quality dentistry, and he looks forward to providing it to you and yours at ProDentures for many years to come.
Dr. Evans is married, he and his wife Tiniecia have a yorkie named Prince.
In his free time, he transforms into a diehard fan of  his favorite teams (Detroit Lions, Michigan State Spartans, Detroit Tigers), and finds pleasure in training and running marathons, as well as entertainment and travel pursuits. 
Are you looking to share a beautiful smile with the ones you love?
Full dentures or partial dentures may just be the perfect solution for you and it won't break the bank.
If you're in pain due to years of neglect, we can help put an end to the pain and restore the health of your mouth. Special dental implants can greatly stabilize a full or partial denture allowing you to chew foods that may currently be a problem.
Our SW Houston location is a full service dental office with a special denture laboratory right on the premises. This greatly reduces your cost, making dentures a very affordable choice.
It also allows us to quickly get your dentures made in a fraction of the time of most offices who must send them out to specialty labs. You can even get a full set of temporary dentures made in as little as one day.
High Quality Dentures at Affordable Prices
At ProDentures, we give you options. We will conduct a full oral exam and spend time reviewing your options, carefully explaining each of your choices.
You can choose between a variety of materials that will give you the longest wear and have the least chance of breaking.
So why not give us a call right now and schedule your initial exam?
Unlike other dentists, this office visit and examination is completely FREE. There is no cost or obligation and we will also conduct a full high-tech x-ray ($99 value) at no charge.
Give us a call today to schedule your appointment… 713-778-0191, se habla espanol!
ProDentures
8000 South Gessner Road, Suite 400
Houston, TX 77036
(713) 778-0191
Open Monday-Friday 7:30am-4:30pm
Open some Saturdays 8:00-1:00pm by appointment only