ProDentures Cypress Location
Quickie Bio
"I don't think that I'm a 'normal' dentist who LOVES drilling teeth and high-tech toys. I like to figure out more affordable ways to help regular people get healthy—even if it's not the most clinically challenging method (or the most expensive)."
— Dr. Paul Robert Searby, Founder and President of ProDentures®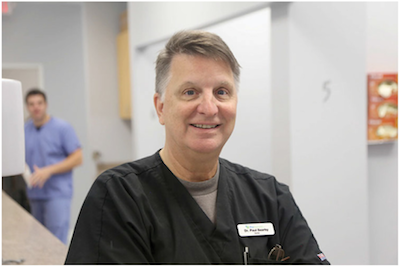 Following his 29 years of experience, Dr. Paul Searby created ProDentures to offer patients classic and less expensive alternatives to today's dental specialists who make dental solutions too complicated, too fancy, and too expensive.  Dr. Searby focuses on ensuring affordable prices for excellent dental products and dental work.
Dr. Paul Searby obtained his Doctorate of Dental Surgery in 1984 from the University of Texas at Houston, and holds a Master of Science in Chemical Engineering from the University of Virginia. He has taught and consulted dentists around the country about maintaining one's own dental practice. He is also currently reviewing medical research that proves the negative impact of sick teeth and gums on overall health and life expectancy.
He and his wife, Mary Ellen, have been happily married for 36 years. They proudly share six wonderful children, and enjoy spending time with their two rambunctious granddaughters. All of whom, says Dr. Searby, have been "enough reward for me for a lifetime."
Dr. Searby's hobbies include reading science fiction, jogging very slowly, attending bible study, doting on his kids and grandkids, and completing yard work (when the Missus makes him).
---
Dr. Paul Searby's Experience and Credentials
BS & MS Chemical Engineering – UVa 1977
Doctor of Dental Surgery: University Texas at Houston 1984
Member: ADA, TDA, GHDS
Licensed by the Texas State Board Dental Examiners
ProDentures
20320 Northwest Freeway, Suite 200
Houston, TX 77065
832-688-9726
Open Monday-Friday 8:00am-5:00pm