News from ProDentures
Your Source for Affordable Dentures in Houston, Texas
Houston Dentist Offers Three Vital Tips for Proper Maintenance of Partial Dentures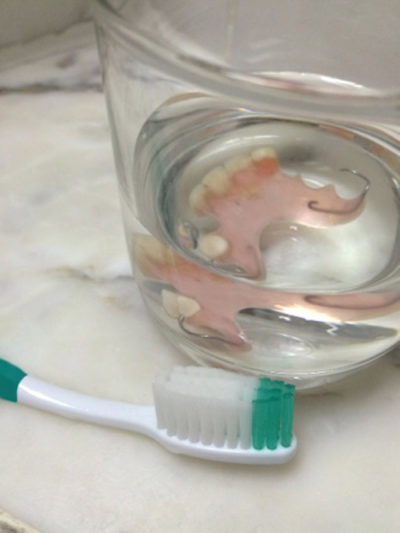 3 Essential Rules for Taking Care of Your Partial Dentures
Troubled and missing teeth has become a near epidemic across the United States. Experts estimate that more than 178 million American adults have at least one missing tooth. Fortunately, there are many cosmetic dentistry procedures that can correct one or more missing teeth. One common treatment is to find a dentist that can provide affordable partial dentures.
After you've been fitted with your new partial dentures, you will be able to enjoy the cosmetic and functional benefits of once again having a "complete set of functional teeth". Naturally, you'll want to make sure your new partial dentures last as long as possible. With that in mind, here are a few tips to help you maintain your partial dentures:
Brush Your Dentures Every Day
Although partial dentures are technically "false teeth", they don't give you a license to skip proper daily oral care. Just like natural teeth, food debris may get wedged in between your dentures. This can promote the growth of bacteria to release more acid into your mouth and bloodstream, which can lead to further complications in your overall health. Therefore, we suggest that you clean your partial dentures with a toothbrush every day—just make sure you avoid using hard bristle brushes to prevent scratches and other forms of damage.
Create a "Safety Net"
Partial dentures are sensitive structures and can easily chip or break when dropped on a hard surface. Since it can be a little difficult to keep a good grip on your partial dentures as you clean them, the best course of action is to create a "safety net" around your sink using folded face towels. This simple solution helps cushion the impact if you accidentally drop your dentures, similar to how stuntmen use giant airbags when they fall off of buildings.
Leave Them in Warm Water at Night
It is not advised to sleep with your dentures in since that can cause irritation to the gums. When taking your dentures off at night, be sure to soak them in warm (hot/boiling water should never be used) water with a bit of cleaning solution. This helps remove stains, plaque, and bacteria from the dentures. Doing so also prevents dentures from drying out, which can leave your dentures brittle and prone to future damage.
In the event your affordable partial dentures become loose or sustain any type of damage, it's best to set an appointment with your dentist as soon as possible. Dr. Searby, founder of ProDentures, can easily evaluate your current dentures and provide you with brand new partial dentures if needed.
Please give us a call today at 832-688-9726 to schedule a no-cost, free dental exam with x-rays.
Sources:
 Removable Partial Dentures, MouthHealthy.org
Taking Care Of A Partial Denture, Colgate.com