Compare Our Low Denture Prices To Other Area Dentists
Our ProDentures® promise of "Reasonable Dental Options" consists of two things:
1) basic, time-tested dental services at
2) very low fees compared to other local dentists.
These two unique offers allow us to truly be the Dental Friend to Houston's Working Folks and Retirees.
But don't take my word for it.
Take a second to look at this chart of local dental fees I received from an independent consulting firm for my area of NW Houston…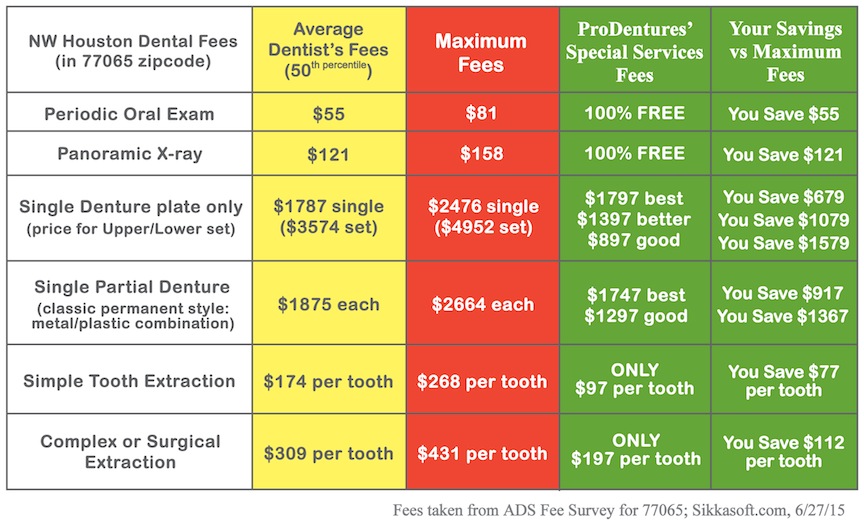 The first column of fees is for an average NW Houston dental office (50th percentile). From there the prices just go up (and up) to the Maximum fees in our area (that's the Red Column).
Note the average fee for a single maxillary (or upper) denture plate is $1787, up to a high of nearly $2500 per plate – that's about $5000 for a complete new set of upper and lower dentures!
And finally look at the 2nd to last row for a single, simple (non-surgical) tooth extraction. The average fee is $174 per tooth up to over $250 per tooth. Imagine if you or your loved one needed a whole bunch of bad teeth removed to get healthy… Do the math. Then add the cost for a denture or two. Whew!
This is why I created ProDentures® to give my friends and neighbors a "reasonably priced" basic alternative to the very expensive care that is offered by almost every other dentist.
From examinations and adjustments to full or partial dentures, ProDentures® is equipped to handle all your dental needs. To help you understand your options, we've included descriptions of some of our leading services on this page.
Exam and X-rays
Exam
FREE
Panoramic X-ray
FREE
Gold Replacement Dentures – 10 year warranty
Full Set (dentures)
$3494
Full upper or lower (single plate)
$1797
Silver Replacement Dentures – 5 year warranty
Full Set (dentures)
$2644
Full upper or lower (single plate)
$1397
Bronze Replacement Dentures – 1 year warranty
Full Set (dentures)
$1694
Full upper or lower (single plate)
$897
Economy Replacement Dentures – No warranty
Full Set (dentures)
$995
Must have existing wearable dentures.
Only available in sets.
Implants for Dentures
Two surgical implants for dentures start at
$4000

Immediate Dentures
Most people who have existing teeth that need removal would like their new dentures placed immediately over the extraction sites so that they don't have to ever be seen without teeth. We think this is smart but you will have gum shrinkage as you heal and your dentures will become looser.
To compensate for this inevitable healing and reshaping, we have designed an Immediate Denture All-Inclusive Package Deal which includes your Immediate Denture(s), a series of soft relines which cushion-fit your dentures to whatever shape your gums are in, and a long term hard reline after six months when all the healing and shape changing is done. These soft liners and eventual hard reline allow you to look great and be comfortable from the very start.
Gold Immediate Package (set)
$4194
Gold Immediate Package (single plate)
$2097
Silver Immediate Package (set)
$3394
Silver Immediate Package (single plate)
$1697
Bronze Immediate Package (set)
$2394
Bronze Immediate Package (single plate)
$1097

Partials

Premium Cast metal framework partial (single plate) – Best
$1747
Cast metal framework partial (single plate) – Better
$1297
Valplast Flexible Pink partial (single plate)
$1897